A lot has changed in the travel industry since 1983. But one thing hasn't: People's penchant for making decisions in the moment.
That means timing is everything.
Imagine being right in front of visitors the moment they decide to make (or break) plans. To do something spontaneous. Something authentic. Something fun.
That's where we come in.
Our hyper-local focus, paired with top-notch resources and an unparalleled distribution network, have made us a leader in the travel and tourism industry—known for delivering tangible results in a way that no one else can.
How do we do it?
We partner with visitor centers, hotels, attractions, airports, train stations, convention centers, and more to put our clients directly in front of visitors—right at the moment when they're making decisions about what to do next. (Learn more about becoming a partner.)
Our 3,000 clients in 40 cities across the country consider us a staple of their marketing and outreach efforts, some of them for more than 25 years. Our comprehensive marketing approach includes Brochure Distribution, VisitorFun Card, Publishing, Printing, and In-market Digital. (Learn more about how we can help you get in front of 7 out of 10 visitors in your market)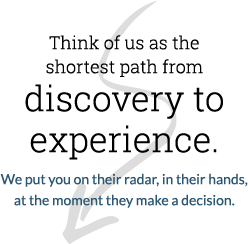 Amplify your marketing efforts
Become a location partner