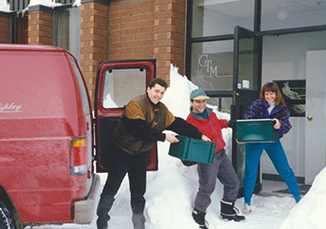 Creative Theater Marketing was founded in 1983 by David Jiranek and David Weil, who had a passion for Broadway. Their goal: Find a creative way to promote the rich and exciting world of New York City theater. And they did it by hitting the streets with brochures in their backpacks, and connecting theaters with the local hospitality industry—hotels, visitor centers, and transportation centers.
Three decades later, CTM one of the largest distributors of visitor and tourism information in North America, and has grown considerably to a team of almost 200 people serving 19,000 locations, reaching 300 million visitors every year through an unparalleled distribution network.
And while our size has changed, our goal hasn't: Connect visitors with fun, exciting, and unforgettable experiences.
We do that by partnering with visitor centers, hotels, airports, train stations, convention centers, activity centers, sporting goods shops, and more to put our clients directly in front of visitors—right at the moment when they're making decisions about what to do next.
Think of us as the shortest path from
discovery to experience.
We put you on their radar, in their hands, at the moment they make a decision.
Our hyper-local focus, paired with top-notch resources and an unparalleled distribution network, give us a powerful advantage in the hospitality industry—and have made us a leader, known for delivering tangible results in a way that no one else can. And our partnerships with more than 100 local convention and visitors bureaus and destination marketing organizations means we can create greater awareness of and support for local businesses via distribution of local print, publications, and digital products and programs.
We're a proud member of Visitor International, an organization that works in partnership with a group of experienced, professional visitor information providers s from across the globe and whose focus is dedicated to the tourism industry. The organization fosters the delivery of services to brochure advertising clients with integrity, quality and results.
Our more than 3,000 clients consider CTM an integral part of their marketing strategy—many of them for more than 25 years. Our comprehensive marketing approach includes Brochure Distribution, VisitorFun Card, Publishing, Print, and In-market Digital.