January CTM Hospitality Award Winner
January 31st, 2019
The CTM "Leaders in Hospitality" program is dedicated to highlighting members of the industry who go above and beyond to make sure that their guests have an eccentric story to tell of their stay at their hotel.  Each month, we'll choose a professional who shows outstanding support and dedication to providing their guests with various types of local information that would ultimately lead to a fun-filled, exciting and memorable stay in our city!
CTM truly values the power of Hotel Partnership, and we hope you enjoy learning a bit more about others in the industry!
CTM is proud to present this month's recipient of the "Leaders in Hospitality" award to Cristina Mendez of the POD Times Square Hotel.
CONGRATS Cristina and thanks for being a Rockstar...read on to find out a bit more about who Cristina is, what she does and what she loves about NYC so much.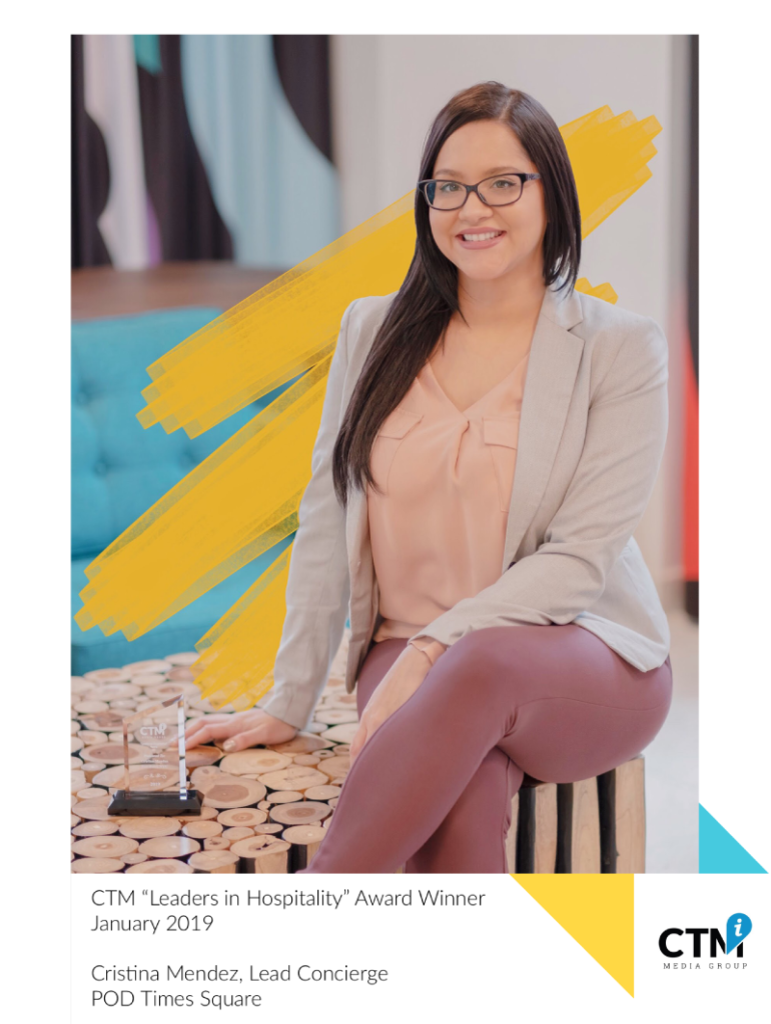 How do you usually start your day
I usually start my work day by checking emails and making sure there are no unresolved issues. I like to stay on top of things to make sure my guests are receiving the best customer service my team and I can provide.
Where did you start your career?
I started my hospitality career in a small boutique hotel as a lounge hostess.  It was probably the most fun I've had while at work and I just knew that I needed to be in this industry!
After leaving that position, I decided on an education in Hotel & Restaurant Management. Shortly before graduation, I found an amazing job with Pod Hotels as a concierge and I've enjoyed coming to work every single day since.
What is your favorite food?
I'm sort of obsessed with Hass avocados LOL.   I literally eat them with EVERYTHING.
Do you have a favorite vacation spot?
Puerto Rico!  I might be a bit bias seeing as I was born there and all, but I truly love that beautiful island. I visit twice a year, it's my 'peaceful place'.
Which part of NYC is your favorite and why?
My favorite part of NYC is the Bronx...home to Van Cortland Park which is a great place for hiking.  YES...hiking!  The trails really take you away from the hustle and bustle of NYC and bring you closer to mother nature.
What is one thing every tourist or visitor should do in NYC before they leave?
The Brooklyn Bridge for sure!  Taking the East River Ferry down to Dumbo and walking over the bridge into the city is absolutely breathe taking. The view is Priceless and a must-do!
How important is handing out local information to guests?
It's vital!!  The information we provide our guests can either make or break their NYC experience.  I pride myself on the advice I give my guest, I make sure every moment they spend in our city is one to remember.
Where do you see yourself in 5 years?
If it were up to me, I'd be running my own Vegan restaurant in a busy neighborhood.   I would love to be in a position where I am able to educate others on healthy living and self-love.
What do you like to do on your day off?
Depending on how busy of a week I've had, I'm either rushing home to spend the weekend curled up watching reruns of The Office or hitting up those hiking trails at Van Cortlandt Park.  I also enjoy going to the beach during the summer to soak up as much sun as possible during those hot summer days!
Do you think brochures are helpful in your day to day?
Absolutely!!!  Words can only get you so far when describing something.   There is nothing like being able to touch a brochure and see for yourself what the experience is like.  Brochures are loaded with important and valuable information that I could never memorize.   So...Thank you, brochures!