Visitor Brochure Safety & Coronavirus
May 14th, 2020
Visitor Brochures Are Safe to Display and Essential to the Success of Travel and Tourism in Your Area and Your Business.
These are extremely challenging times for ALL businesses that are dependent on revenue from National and International tourism, leisure, and business visitors to sustain them. The recovery is going to require a concerted partnership effort by all on a global, national, and local level.
Visitor International members, including CTM Media Group, provide information to your guests through brochures, maps, and guides that encourage them to explore all that your area has to offer. This encourages longer stays, return visits, and positive trip reviews, both online and to family and friends.
Brochures are the single greatest influencers of visitors during their trips and are #1 in delivering business to local attractions and services. This helps sustain the attractions that draw visitors to the area and support your business. Our partners play an important and vital role in the success of the local tourism industry.
Without the ability to provide visitor information to your guests, the tourism industry recovery will be delayed.
BROCHURES AND VISITOR GUIDES ARE SAFE.
There has never been a documented case of COVID-19 being transmitted through brochures, CTM Media Group is taking all the necessary precautions to ensure the safety of their service team and your guests and staff.
Print is more sterile than most surfaces because of the ink saturation and the automated printing processes they go through. Printed brochures are also securely pre-packed before delivery to our members, for onward distribution.
There has NEVER been a documented case of COVID-19 being transmitted through brochures. In fact, Government and National Agencies throughout the world use brochures (via post, door-drops, and brochure display) to communicate the importance of certain behaviors to protect against the coronavirus - wash hands frequently, practice good respiratory hygiene, maintain physical distancing, and avoid touching eyes, nose, and mouth.
While a virus can be on almost any surface, scientific research on the transmission to inanimate surfaces indicates that, unlike hard surfaces such as metal, glass, and plastic, porous surfaces including printed brochures carry the lowest potency and for the shortest period of time. Therefore, the likelihood of contamination and the risk of possible transmission is extremely low and, as there are no recorded cases of transmission, is only theoretical.
Visitor International members undertake strict health and safety precautions throughout the distribution process, from the warehouse to your display. This includes:
Face masks and gloves for all service team members
Daily temperature check for all service team members
Antibacterial wipe down of display racks and digital screens with each service.
As we are in this together, please take the time to make the right decisions for the future benefit of the travel and tourism industry!
Download this information here.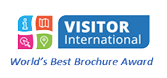 About CTM Media Group:
CTM Media Group has been helping visitors, tourists and out-of-town guests choose their own adventures since 1983. CTM is one of the largest distributors of visitor and tourism information in North America with 19,000+ locations across the US & Canada including attractions, visitor centers, airports, retail destinations, and hotel lobbies. As the industry leader in connecting visitors and tourists with experiences, CTM puts you on the visitor's radar and in their hands at the exact moment they are deciding what to do next.
About Visitor International:
The members of Visitor International share a common interest in the practices, procedures, opportunities, and challenges unique to our 'visitor information' industry. They are guided by a common code of standards and ethics. The goal of the Association is to highlight the importance of providing quality visitor information to visitors and to foster the delivery of professional services to clients with Integrity, Quality, and Results.