February CTM Hospitality Award Winner
March 11th, 2019
CTM is proud to present the February recipient of the "Leaders in Hospitality" award to Luis Zaragoza, Director of Sales at Fairfield Inn and Suites World Trade Center.
CONGRATS Luis!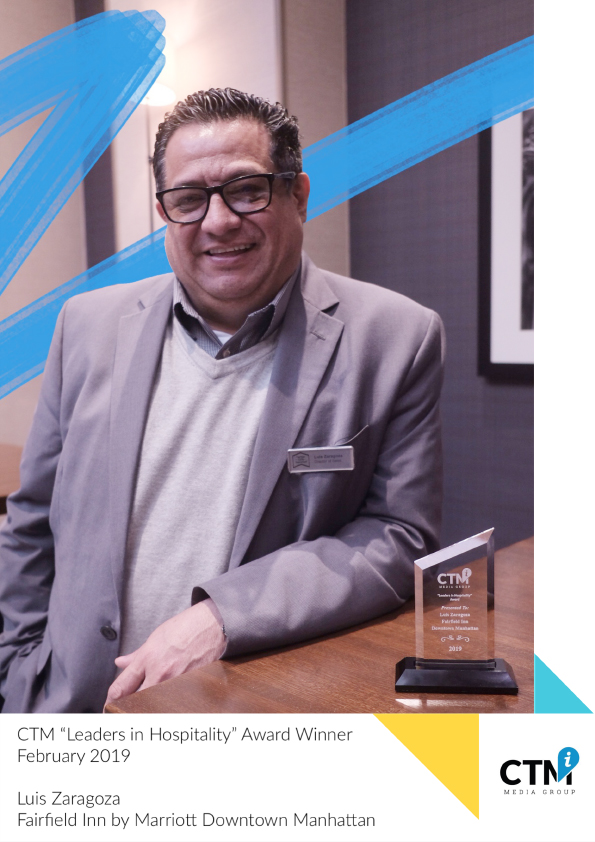 How do you usually start your day
I check the weather report, have a cup of coffee, look at my e-mails (work and personal) and arrange my day based on what is needed to be done for the day, obviously this changes throughout the day based on how busy I am or what is going on at work.
Where did you start your career?
I went on vacations to Cancun when I was 17 years old, and when I observed the people at the hotels having a good time while working I decided that I wanted to work in the hospitality industry, I went back home and told my father I wanted to go to school for hotel management, once I finished school I moved to Cancun and started working in a resort as part of the "animation" team which is the people that organize all the activities at the resort.
What is your favorite food?
Mexican, Thai, and anything that is HOT and spicy.
Do you have a favorite vacation spot?
Playa del Carmen
Which part of NYC is your favorite and why?
Manhattan in general, there is always something to see and something to do, never boring that's for sure.
What is one thing every tourist or visitor should do in NYC before they leave?
They should deal with a New Yorker in some sort of way. Many people think that New Yorkers are nasty, when in reality could be the nicest people you will ever meet (we just don't have time to waste like in other parts of the country).
How important is handing out local information to guests?
Very important! Many guests are visiting for the first time, New York can be a bit intimidating if you are not familiar with the area, besides that, there are so many things happening that people might not be aware of while visiting.
What do you see as a role of the hotel that further improves their stay?
Hotels are all the same, the difference is always going to be the service they deliver, when we take care of our guests and meet their expectations, we create allies, people who are going to recommend our hotel to friends and family, many of these guests spend a lot of time saving money to come and visit, why not give them a vacation to remember in a positive way?
Where do you see yourself in 5 years?
Hopefully I will continue moving forward in my career and enjoying being near my older kids, who by then will have graduated from college and hopefully working as responsible adults.