Digital & Print…Better Together
January 8th, 2020
Why Digital & Print Work Best When Complementing (instead of replacing) One Another
Anyone with an Instagram account could agree that social media has turned the travel industry on its head the past few years. From endless landscape photos of the most popular tourist destinations to sponsored content on travel influencers' pages… it seems nearly impossible to escape the grasp that social media has on the industry. To the naked eye, it may appear that social media is poised to completely overtake the world of Tourism Marketing and render print such as brochures & maps obsolete. After all, according to a recent study conducted by Schofields*, 40% of millennials prioritize the "Instagramability" of the destination over the cost of the trip, availability of alcohol and even opportunities for sightseeing.
When looking at the industry from this standpoint, it is easy to assume that the world of Tourism Marketing will continue to head in the direction of social media platforms and that print advertising will soon become less and less prevalent.  However, according to data collected by Destination Analysts during a study that lasted a span of eight years, we now know that while digital media usage has increased rapidly in American travelers, so has print usage. In fact, in 2016 print usage by US leisure travelers reached a record high of 54%!
This tells us that the American traveler is not simply turning toward social/digital media alone when planning their trips, but rather choosing to be "hyper informed" … utilizing both digital and print simultaneously to gather the information needed to book (and enjoy) their trip.
As expected, larger percentages of millennials consistently reported using social media platforms for trip planning than Gen X and Baby Boomers. However, similar percentages of all three generations reported using various forms of print media in their planning. In fact, millennials reported using printed lifestyle magazines for trip planning at higher levels than older Americans.
According to a research survey conducted by Bentley University's Center for Marketing Technology, print media such as "brochures, maps, and guides are still the #1 influencer of visitors during their trip," outscoring both the internet and social media.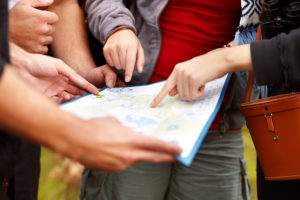 Not only is print still used in trip planning, it has proven to remain extremely influential in the visitors' decision-making process once in-destination. For example, Bentley University's survey revealed that brochures influenced the travel plans of 73% of visitors who picked them up, and that 78% of visitors planned to visit a business they saw in a brochure.
"Print media offers a more physical, tangible medium to consumers," explains CTM's Regional Director of Sales (Southeast), Carrie Fisher. "It's something a tourist can take with them.  It's more professional, more convenient & more sentimental."
What does all of this mean for those concerned with marketing a destination, experience or business to American tourists?
The advantages of social media are that they allow you to reach millions of people with just the click of a button, often times allowing marketers to be more creative & targeted with their material. Yet, even with all these advantages, print media is still more trusted by Americans. According to a survey conducted by MarketingSherpa, 82% of Americans trust print ads when deciding to make a purchase. Comparatively, online pop ups were only trusted by a quarter of Americans.
Clearly, a balanced combination of both digital and print media is proven to be most effective in grabbing the attention of American travelers and getting them to plan a visit to your location.
Eric Cantz, a CTM Media Group Media Consultant, elaborates on the importance of striking a balance between digital and print marketing: "We live in an integrated media and marketing world where all media formats work together to accelerate the consumer decision making process.  We expect our visitors, after they discover a rack card/brochure, to then do additional online research like find directions, check out TripAdvisor reviews, Yelp reviews, and more. Then they can make a decision of Yes or No. No one media format works alone in today's world – it's all integrated and works together."
In this so-called "technological age," companies shouldn't be looking to choose digital media over print…or vice versa, but rather they should aim to find a perfect balance in their marketing strategies where one complements the other.
Pilar Ahmann, a CTM Media Coordinator, sums up the strength of both digital and print media and why they complement each other so well: "Digital media provides exposure and convenience to the marketing world while print provides tangibility and credibility. The combination of these components helps to create an impactful and powerful marketing campaign."