March CTM Hospitality Award Winner
April 8th, 2019

CTM is proud to present the March recipient of the "Leaders in Hospitality" award to Abner Withers, General Manager of Courtyard by Marriott, Long Island City.
CONGRATS Abner!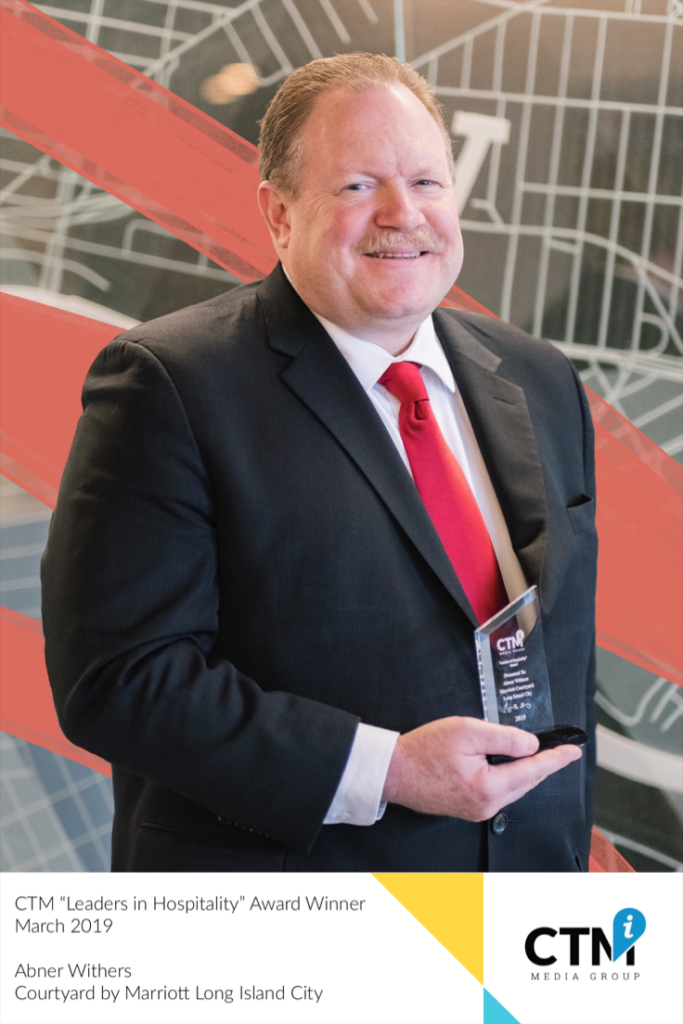 How do you usually start your day
With a 5oz glass of Mango & Orange Juice
Where did you start your career?
Sheraton University Center Durham NC – near Duke University
What is your favorite food?
Taco Salad – making them then eating them.
Do you have a favorite vacation spot?
Coastal North or South Carolina
Which part of NYC is your favorite and why?
The diversity – I love meeting and greeting people from all over the globe. If I picture a geographic location in NYC, it would be the center or Long Island City – Our team of associates' and managers opened the Courtyard by Marriott Long Island City in May of 2016; and I lived near for almost 6 years, Long Island City feels like home to me.
What is one thing every tourist or visitor should do in NYC before they leave?
Visit an observation deck like the Empire State Building, World Trade Center or Hudson Yards; to see the city from up high; looking down.
How important is handing out local information to guests?
Top priority, that's why we partner with CTM
What's the most important thing you use when helping guests?
Local maps, brochures, local business office details and locations
Where do you see yourself in 5 years?
Leading future hospitality professionals and teaching the next generation all that I have learned through years of experiences with Interstate Hotels and Resorts; and along the journey continuing to learn each and every day from each person I meet.
Do you think brochures are helpful in your day to day?
Absolutely!
What do you like to do on your day off?
Spend time with my wife, kids, family and friends.