Smart Marketers Fish Where the Fish Are, Especially in a Time of Crisis
May 15th, 2020
You would never see a top-class angler go and just cast out a fishing line in any waters to see what happens. Instead, they would know to go to where the fish actually are, so their prospect of a catch is virtually certain.
If you have a tourism business, the same principles apply,  and particularly during a time of crisis. You wouldn't (or shouldn't) speculatively advertise in just any publication or through just any channel. It's far better to advertise or promote your business precisely targeting those you want to reach, and who are most likely to visit or buy from you.
You fish where the fish are!
Now, because of the coronavirus, there are likely to be less 'fish' about for a little while. It means that, when the time is right, it's much more important to seek them out and precisely 'cast' to reach them.
This is where CTM Media Group can help you. We are in-destination marketers. This means we don't communicate with visitors who are thousands of miles away and NOT traveling. We only communicate with visitors who are already traveling and are looking at what to do next in your region.
These visitors are actively seeking out the best attractions to visit, the tours to take, the entertainment to enjoy, the great places to eat, and the activities to experience. CTM Media Group can inform them about your business at their point of decision!
We can communicate with visitors during their trips 24/7/365 in a variety of ways including brochure displays, visitor guides and maps, and digital platforms.
If you want to fish where the fish are,  we are pleased to help you.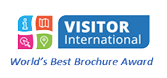 CTM Media Group is a proud member of Visitor International.
About CTM Media Group:
CTM Media Group has been helping visitors, tourists and out-of-town guests choose their own adventures since 1983. CTM is one of the largest distributors of visitor and tourism information in North America with 19,000+ locations across the US & Canada including attractions, visitor centers, airports, retail destinations, and hotel lobbies. As the industry leader in connecting visitors and tourists with experiences, CTM puts you on the visitor's radar and in their hands at the exact moment they are deciding what to do next.
About Visitor International:
Visitor International is the International Association of Visitor Information Providers. Our member companies around the world specialize in providing client information to visitors during their stay in their destination, to guide them to wonderful experiences. Learn more at www.VisitorInternational.com