When Travel Resumes, Visitor Brochures will be Superheroes for Tourism Businesses
May 15th, 2020
Visitor Brochures are the single most significant influencers of visitors during their trips. Four out of every five visitors pick up brochures during their trip, and this influences the visit or buy actions of over seven in ten visitors.
We know brochures have special powers.
If a visitor brochure could speak, here is what it might say: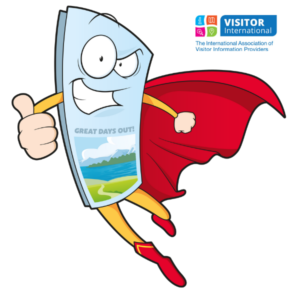 I am a Visitor Brochure. I am a Superhero for tourism businesses.
I have four special powers.
The Power to time travel – to be everywhere visitors are and at precisely the same time.
The Power to influence and guide visitors. (4 out of 5 choose me)
The Power to change minds. (73% of visitors are open to changing their minds based on my information)
The Power of extreme endurance. I never sleep. I stay alert 24/7 to be there when visitors want to know what to do next.
I am ever-present in hotels, resorts, visitor attractions, tourist information centers, transportation centers, and more. I am the most trusted source for information, and I am a force for good. I present visitors with great surprises and discoveries. I confer upon them the joy of anticipation, and vast new knowledge to share with others. I guide them to amazing experiences, and I stay with them throughout their journey. I frequently return home with them, to help them enjoy brilliant memories of special times, and to encourage others to visit.
In times of crisis, my powers become stronger. I influence those who are already nearby, and who want to know what to do next. I show them what they can enjoy right NOW, and at the point of their decision. You can make your brochure a Superhero through brochure display with any of our members.
Let us be your hero!
CTM Media Group wants your brochures to become Superheros. When travel resumes, we have the power to win you more business during the most challenging of times.
About CTM Media Group:
CTM Media Group has been helping visitors, tourists and out-of-town guests choose their own adventures since 1983. CTM is one of the largest distributors of visitor and tourism information in North America with 19,000+ locations across the US & Canada including attractions, visitor centers, airports, retail destinations, and hotel lobbies. As the industry leader in connecting visitors and tourists with experiences, CTM puts you on the visitor's radar and in their hands at the exact moment they are deciding what to do next.
About Visitor International:
Visitor International is the International Association of Visitor Information Providers. Our member companies around the world specialize in providing client information to visitors during their stay in their destination, to guide them to wonderful experiences. Learn more at www.VisitorInternational.com