Maximize Your Online Sales. Save Time and Do More.
January 21st, 2021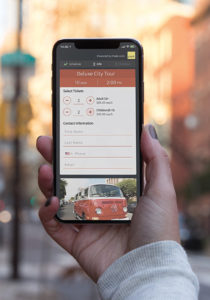 CTM can help you increase your ticket and product sales, whether you currently sell tickets on your website or not.
We have partnered with Peek Pro, a tour and attraction management software leader, to offer an online ticketing and management solution that may be right for your business.
Get More Bookings
Deliver Memorable Customer Experiences
Save Time & Money
Make Business Enjoyable
The Peek Pro software can manage all your bookings, both online and offline.
Get more bookings, deliver a great customer experience and save you time and money – all with no monthly fees.
Call CTM to receive a FREE DEMO and see how Peek Pro can easily make ticket sales through desktop and mobile devices. Peek Pro can even customize the booking flow to meet your business needs.
Visitors & Locals are checking out your website for new hours and specific details during this crucial time. Please take advantage of their engagement by selling your tickets online.
Peek Pro also offers many tools to manage your booking and visits through mobile devices, which help you create a touchless, friction-free experience.
Reach out to your media consultant for a FREE demo. If you choose Peek Pro through CTM, there will be no out-of-pocket cost for your installation.
Call 1-800-888-2974 to learn more.